Mannequin Heads
Looking for hair dressing mannequin heads? StyleHQ has professional mannequin heads with protein human hair,

---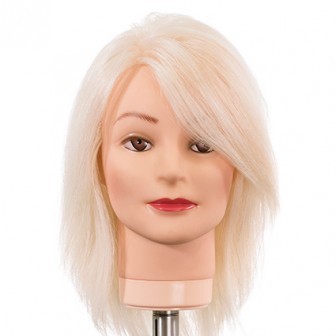 Professional Billie Mannequin
Colouring Hairdressing Mannequin Head
The Dateline Professional Billie Hairdressing Mannequin is designed by hairdressers for trainee hairdressers. Made from high quality, thick density hair with a natural hair implantation which is designed to mimic human hair. Made from angora goat hair, ideal for colouring and bleaching processes. Recommended for use in permanent colouring and direct dye.

Features:
Made from angora goat hair
Colour: white
8 12 short increased layer
Ideal for cutting, styling and chemical services
AAA grade hair quality
MANN BILLIE ANGORA SHORT HAIR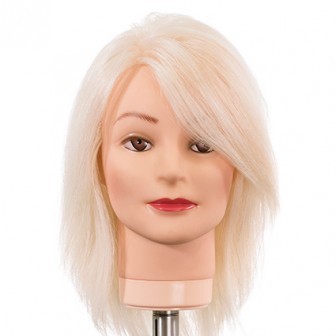 Professional Hairdressing Georgie Mannequin - Extra Long
Product Code: 140209
$140.00
Hairdressing Mannequin Extra Long Protein Human Hair
Designed by hairdressers, for trainee hairdressers. With the correct hair density, in the required direction. Georgie is a cost effective mannequin, ideal for up-styles, cutting, setting and blow waving. Not recommended for chemical services. Made from 50% human hair and 50% protein fibre.

Features:
Colour Brown
Length Extra Long
Style Increased layer
Thick density
The use of thermal styling tools over 120C is not recommended.
MANN GEORGIE EXTRA LONG PROTEIN HUMAN HAIR
Professional Hairdressing Veronica Mannequin Brown
Product Code: 140140
$140.00
Practice Cutting and Styling Techniques
Designed by hairdressers for trainee hairdressers, the Professional Veronica Mannequin is the ideal apprentice tool for learning hair cutting, deposit and high lift colouring, blow drying, setting, upstyling and perming techniques on. Made from 100% human hair, the Veronica is an excellent resource for any hair cutting program.


Features:
100% human hair
Hair colour: Brown
Hair length: Medium (43cm)
Style: Increased layer
Hair type: Indian
MANN VERONICA MED BROWN INCREASED