Amika
With shampoos, conditioners, nourishing masks, hair oil, hairspray, curl cream, leave in conditioner, dry shampoo and heat protective serum, amika feeds hair with ultimate nourishment by harnessing the power of antioxidants, amino acids, bioactive nutrients and super fruit such as Obliphica. Born to perform. Live to impress.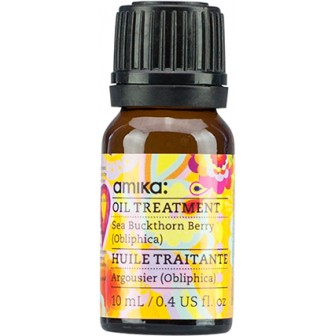 amika Obliphica Oil Treatment 10mL
Brand: Amika
Product Code: 704015
Your Styling Multi-Vitamin
The amika Obliphica Oil Treatment nourishes and strengthens hair while eliminating frizz. The treatment deeply conditions and restores shine while providing protection against environmental and sun damage. The molecules in the formula penetrate the hair's surface to get to the cortex. This process enables the oil treatment to seal split ends while improving shine, elasticity and nourishment. It is also perfect for providing protection before and after blow drying and is used to help reduce blow drying time. The oil treatment can also be added to enhance other conditioning or styling products.
How To Use:
To Use: Prepping - After shampooing and conditioning, apply a few drops to the palm of your hand and then evenly distribute throughout damp hair. Style as usual. Finishing - To control frizz and protect hair from environmental aggressors, apply a few drops into the palm of your hand and lightly distribute throughout the hair focusing on ends.
Ingredients:
Obliphica - (Sea Buckthorn Berry) is rich in antioxidants, essential amino acids, vitamin E, rare Omega 7 and 190 other bioactive nutrients which are instantly absorbed by hair to repair and replenish.


Wheat germ oil - Readily absorbed by the hair, wheat germ oil will replenish lost moisture and provides a natural UV filter; all while adding shine, strength and softness.


Jojoba seed oil - a similar molecular structure to sebum, jojoba seed oil penetrates the hair follicle and strengthens from the inside out. It also helps to repair the hydrolipidic film by filling in cracks that are on the surface of the hair cuticle.


Fragrance: amika's signature scent includes vanilla, citrus and sweet clover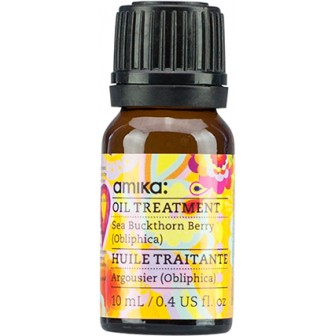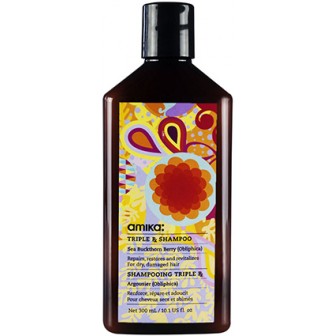 amika Triple RX Shampoo 300mL
Brand: Amika
Product Code: 704045
Revitalise Dry Damaged Hair
The amika Triple Rx Shampoo is specifically formulated to repair, restore and revitalise dry, damaged and overstressed hair that has been weakened or damaged due to colour, chemical processing or heat styling. This highly concentrated formula combines the Omega 7 enriched Obliphica Berry with reconstructive keratin and wheat proteins - restoring elasticity, moisture, softness and manageability. The sulphate free formula envelopes hair in a luxurious, creamy lather that rinses clean. The pH of 4.5 - 5.5 ensure no fading or stripping of colour-treated hair.
How To Use:
To Use: Wet hair and gently massage small amount throughout scalp and hair. Rinse thoroughly with warm water. Rinse and follow with amika Obliphica Hydrate Conditioner.
Ingredients:
Hydrolyzed Keratin - repairs and restores moisture, elasticity, lustre and smoothness.


Hydrolyzed Wheat Protein - derived from whole wheat, this protein increases the hairs ability to retain moisture. Damaged and dull hair is revitalized into shiny, glossy hair with improved manageability.


Avocado Oil - nourishment and smoothing from important nutrients like protein, Vitamin A, D, E, B6, amino acids, folic acid and minerals.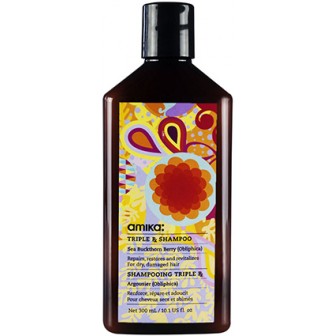 Showing 1 to 2 of 2 (1 Pages)
Our Brands