Bags & Pouches
Hairdressing and beauty equipment bags, as well as scissor and thinner holders and pouches, are available here at StyleHQ. Select from wheelie bags, back packs and organisers from renowned brands such as Hipster and Iceman.

---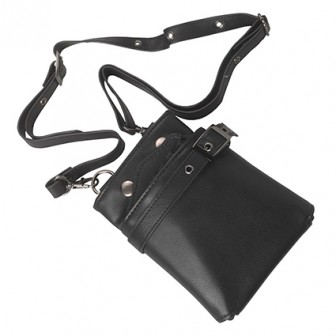 Iceman Hairdressing Scissors Pouch
Brand: Iceman
Product Code: 126057
$38.00
Convenience and Protection for Cutting Tools
The Iceman Hairdressing Scissors Pouch is the convenient yet secure solution for hairstylists. Ideal for apprentices through to senior hairdressers, this pouch can be worn across the body or around the waist for easy access to your cutting tools. Featuring an adjustable strap, the pouch securely holds up to 4 pairs of scissors, protecting your scissors from scratches and falls.
Features:
Stylish black leatherette
Hold 4 scissors
Adjustable strap to wear cross body or around the waist
Convenient, easy access to scissors
Protects cutting tools from scratches and falls
ICEMAN HAIRDRESSING SCISSOR POUCH